Write the first paragraph of your page here.
Extended Plot
Edit
A small town church is putting on its Christmas pageant, and little Serena desperately wants to be the angel. Her slightly retarded friend Joey, must come to terms with the fact that Serena is dying of a heart condition. Joey is pathologically afraid of the dark--his parents went out into the night and never came back. Since then, his older brother Wayne has been his caregiver, and resented it. Monica reveals herself to Wayne, but he holds God responsible for his lousy life.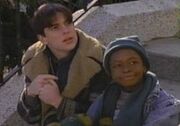 When Serena dies the night of the pageant, Joey is led to the church by a bright star. Wayne is there, too. Monica takes Serena's place as the angel in the pageant. When the rope supporting her breaks, Monica rises with glory and power and the entire congregation is awed by her angelic revelation and message: "Fear Not."
Main Cast
Recurring characters
Guest Stars